Details
2KW wind turbine generator
1. Application:
Wind turbine is an equipment to convert wind energy into electric power which is charged into storage battery group or interface to utility grid. It can be widely used in rich wind areas.
Now we have 24v, 36v, 48v, 96v, 120v off grid working system, wind solar hybrid system. It is capable of providing power for lighting, TV, washing machine, refrigerator, small water pump, telecommunication equipment and so on.
On grid working system 120v-300vdc: wind turbine output 3 phase AC power, PWM on grid controller convert AC to DC and supply steady DC voltage to grid tie inverter. The power can be use for home appliance, extra power interface to the utility grid.
2. Structure
2kw wind turbine off grid working system including: wind turbine main body( blades rotor, permanent magnet generator, rotor body, tail rod, tail vane), guy wire tower or tilting up tower, charge controller with dump load, battery group, inverter.
2kw wind turbine on grid working system including: wind turbine main body (blades rotor, permanent magnet generator, rotor body, tail rod, tail vane), guy wire tower or tilting up tower, PWM on grid controller with dump load, grid tie inverter.
3. 2kw wind turbine normal spec
HAWT FD3.2-2KW @380rpm

RATED POWER

2000w

MAX. POWER

3000w

ROTOR DIAMETER

3.2m ( 10.5 ft)

BLADE NUMBER

3pcs

CUT IN SPEED

3m/s(6.7mph)

RATED SPEED

9m/s

MAX. WIND SPEED

50m/s

SWEPT AREA

8.0m2

START TORQUE

1.2n/m

VOLTAGE OUTPUT

24v/300vdc-110/220vac at 50/60hz

TOWER-UP WEIGHT

76kg

GENERATOR

Permanent-magnet ;3 phase; AC

BLADES

Polyester resin reinforced with fiber glass

CONTROLLER

On-grid, off-grid, water heating system or hybrid system

INVERTER

Single phase pure sine wave inverter, grid tie inverter

TOWER

6m-15m ; guy wire tower, free stand tower, tilting up tower, lattice tower

TYPE

Up-wind horizontal rotor

SPEED REGULATION

Electromagnetic brake +Yawing

STOP METHOD

Electromagnetic brake

NOISE

28db from 60m with a wind speed of 8m/s(65yd and 17.8mph)

ANNUAL PRODUCTION

2000-6000kwh

CO2 SAVED

1570-4710kgs

ANTICORROSION PROTECTION

Sealed design +hot aluminum spray + hot galvanization + UV resistant paint

DESIGN

According to EN61400-2
For unrich wind place, we recommend FD3.8-2kw wind turbine. The larger blades rotor diameter has lower rated wind speed.
4. 2kw output power curve/on grid inverter input data (rotation speed, wind speed, voltage, power data)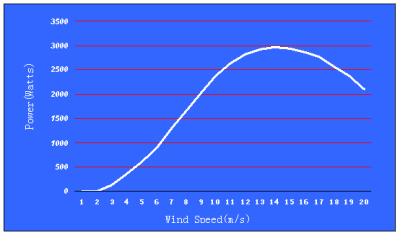 On grid inverter input data need check the whole working system, then provide to the user.
5. Wind turbine main features
Blade: Manufacturing according to the airscrew structure principle and techniques. Optimal wide TSR & High L/D ratio. With protection film on the edge, long work life.
Select blade type by wind tunnel testing.
With high efficiency, low noise.
Blades rotor: Hub adopts casting molding; Blades rotor and generator adopt universal connection, directly driven. Connection is reliable, durable, smooth operation without vibration.

Generator
Rotor: Nd-Fe-B permanent magnet. Prefabricated tangential magnetic circuit rotor; High magnetic flux density, small cubage, good manufacturing process and high performance.
Adopt SKF, NSK bearing.
Close transmission slip ring, the cable will not enlace.
Speed regulation: yaw. Simple, reliable and safety.

Anti-corrosion treatment: All the outside parts are designed to anti-

salt,

anti-fog

,

anti-

atmospheric

anti-

sandstorm

corrosion

design.

Tower: guy wire tower, tilting up tower, standalone tower, hydraulic tower… It can be designed according to your request.

300w, 500w 1kw, 2kw, 2.5kw auto braking; 3kw-30kw auto braking system and manual braking system.

Wind turbine design principle is simple, safety, reliable, maintenance free.

Provide low wind place, rich wind place solution. Wind turbine OEM service.
Application: