Details
FD10-20kw, FD12-20kw variable pitch wind turbine
1. Huaya pitch controlled wind turbine introduce:
Huaya 20kw pitch controlled wind turbine adopts:
Passive electric pitch controlled, tailless wind turbine. Controller will test the rotation speed. Once the rotation
speed is too higher, it will push the blades angle twist and change itself aerodynamic characteristic to control
wind turbine rotation speed, till the blades direction same with the wind direction and stop working. This will
make the generator output power steady and constantly.
It is intelligent control by computer, RS485 communication
2. Huaya pitch controlled wind turbine features
Blades rotor: Blades material is reinforced glass fiber. It has special film on the blades edge. The blades are
high bending strength, weather-proof, long work life.
Generator: Blades rotor drives directly. Lower rotation speed, PMG synchronous generator, over load capacity
is 150%.
Pitch controlled wind turbine: Adopt stable pitch controlled system, can be used in variable environments
Low failure rate
Speed regulates Performance: The precision of pitch controlled system is 10 r/min, and never over speed at
gale.
Low Start-up Wind Speed: According to different wind conditions, adjust the blade initial angle to make wind
turbine start up at low wind speed.
The start-up wind speed is 4 m/s.
Manual brake: Reliable braking system, easy to operate, can stop wind turbine at any time.
Automatically undo cable: Slip ring undoes the cable automatically. Ensure the cable has not twist. Double
carbon brushes structure make sure power transfer without failure.
Well-adapted Wind turbine: The operation wind speed is 4-35m/s.
3. Huaya pitch controlled wind turbine 20kw technical data
| | |
| --- | --- |
| Blades rotor Diameter (m) | 10 |
| Material and number of the blades | FRB 3 PCS |
| Rated power / max power (w) | 20k/25k |
| Rated wind speed (m/s) | 12 |
| Startup wind speed (m/s) | 4 |
| Working wind speed (m/s) | 4-35 |
| Survived wind speed (m/s) | 50 |
| Rated rotation speed (r/min) | 170 |
| Working Voltage (V) | DC240--500v |
| Generator style | 3 phases, AC PMG |
| Speed regulation method | Pitch controlled |
| Stop method | Manual brake |
| Working system | Off-grid working system/on grid working system |
| Stand alone Tower height | 15m 18m |
12m blades rotor diameter optional for the low average wind speed place.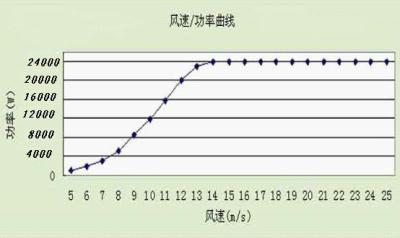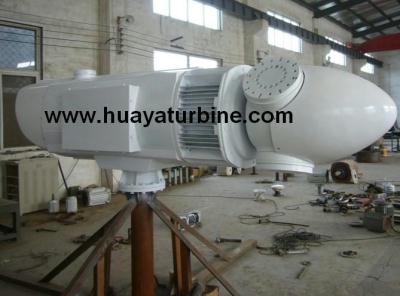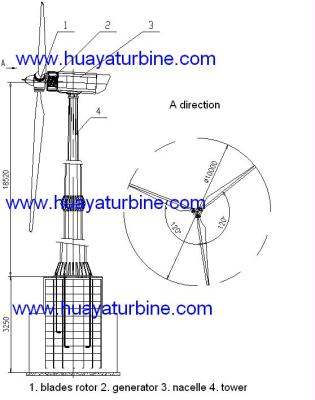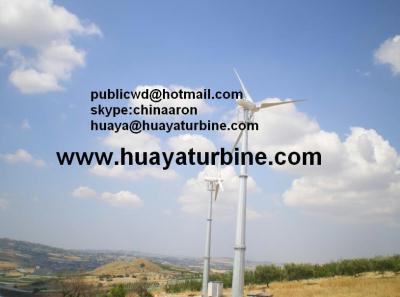 20kw pitch controlled wind turbine in Italy